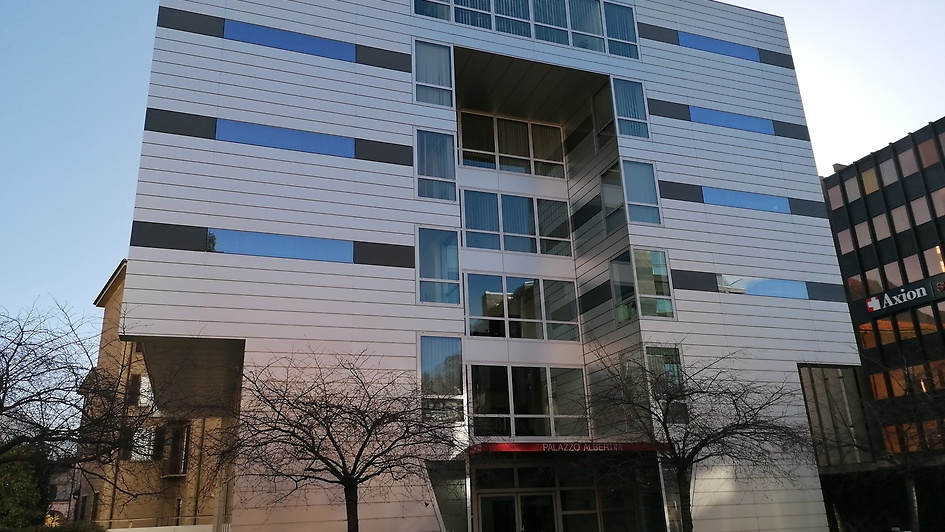 adesso office Lugano
adesso Schweiz AG Viale Stefano Franscini 30 6900 Lugano Switzerland
Show on the map
info@adesso.ch
+41 58 520 97 40
Facts
30 adessi
Founded in 2020
Introducing adesso Lugano
A beautiful mountain panorama
The office in Lugano has great visual appeal thanks to its close proximity to the lakeside and the beautiful Parco Ciani. It is also just a short walk away from various hotels, shops and restaurants and the rail station in the city centre. From there, it is easy to explore the rest of Switzerland, and there are also trains to numerous international destinations. As the University of Lugano is within walking distance, many students – potential adessi – live in the local area.
Culinary highlights:
Our building is surrounded by pizzerias, restaurants, brasseries, shopping centres and food stores. There is a broad selection to suit any taste, whether you are looking for fast food, a leisurely lunch or a place to do business. And for those who enjoy the outdoors, the Villa Saroli is right across the street, offering an excellent picnic spot on sunny days!
Special features in the office – we offer …
... a warm and informal office atmosphere. From time to time, we arrange various kinds of meet-ups so that we can spend time together outside working hours, including enjoying an aperitif as a group.
... openness to initiatives and dialogue, sharing ideas, conversation and building communities outside working hours – with or without a technical focus.
... small snacks, fresh fruit and drinks at all times.
After work:
Surrounded by mountains, Lugano is not only spectacularly beautiful, but also offers a wide selection of hiking trails and breathtaking views such as those from Monte Brè and Monte Generoso. LAC – Lugano Arte Cultura is also worth a visit inside and out. It is the city's largest cultural centre, focusing on artistic production and particularly theatre, music and visual arts. The Cattedrale di San Lorenzo is located in the heart of the city. It is the most important Catholic building in the Romanesque style in Lugano. The city also offers green space, concerts and cultural events that are ideal for young people and families alike.