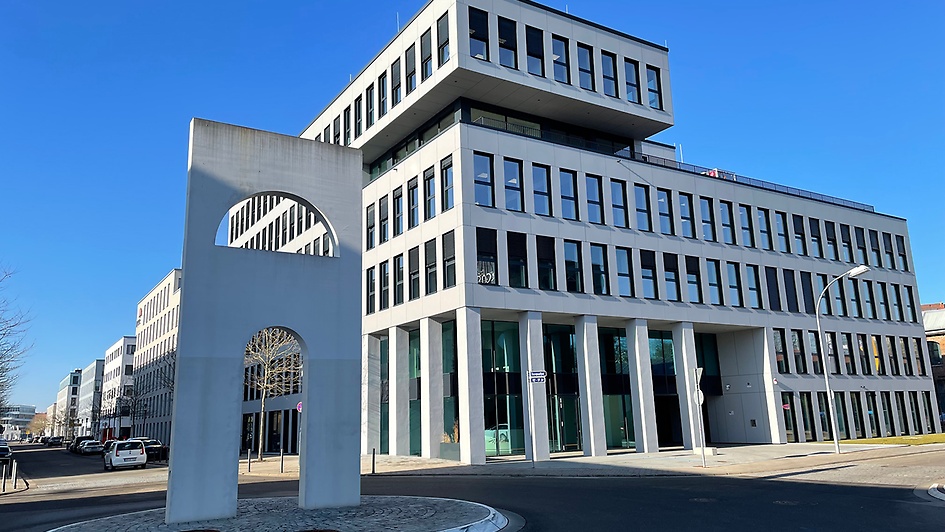 adesso Office Saarbrücken
adesso SE Europaallee 33 66113 Saarbrücken Germany
Show on the map
office-saarbruecken@adesso.de
+49 681 38752500
Facts
29 adessi
Founded in 2022
Central location in the heart of the federal state capital
Introducing adesso Saarbrücken
In the heart of the Saarland capital
adesso's Saarbrücken office is in the Eurobahnhof district, a new business quarter perfectly located in the heart of the city behind the Main Station. Just across from the office is a public car park and the station car park north.
Our modern Saarbrücken office has a fully equipped kitchen and comfortable lounge areas that are often used for group lunches and coffee breaks. adessi can relax during their breaks by playing table football or darts.
Culinary highlights:
The people here love good food and share the "savoir-vivre" mentality of their French neighbours. The result is a wide variety of dishes and delicious treats. The adesso office is centrally located in Saarbrücken and there are a number of restaurants – from small bistros to award-winning cuisine – within walking distance.
Directly behind our office is the QUARTIER, which offers competitive prices, tasty dishes and quick service and was crowned the winner of the Saarland edition of a TV restaurant competition in 2021. Numerous bakeries and fast-food restaurants can be found in direct vicinity of Saarbrücken Main Station. On the other side of the station is the pedestrianised zone, with something for everyone: takeaway food in the Europa-Galerie shopping centre's food court or a relaxed and cosy restaurant for an evening meal with colleagues and customers.
Special features in the office – we offer …
… free tea, coffee, soft drinks and various after-work drinks, as well as fresh fruit, sweet treats and soon also a barbecue available to all for lunch breaks and evening events.
… the possibility for adessi to meet for a group breakfast once a month – the perfect opportunity to get to know other adessi better.
… after-work events with local partners (currently being planned), including pizza events, guest presentations held by researchers and interesting local personalities, as well as projects with students from the nearby universities and networking events with start-ups.
After work:
The large pedestrianised zone with a wide variety of shops and restaurants is only a short walk away. It leads to the picturesque St. Johanner Markt with its historic buildings and the famous Johanneskirche church.
The popular Nauwieser district, with its vibrant nightlife, is not far away either. The Baroque-style Saarbrücken Castle, the imposing Ludwigskirche and St. Johanner Markt with its beautiful old town are always worth a visit after work. The Franco-German garden or the banks of the Saar river are also attractive destinations for a relaxing walk. The annual summer festival brings people from far and wide into Saarbrücken city centre.