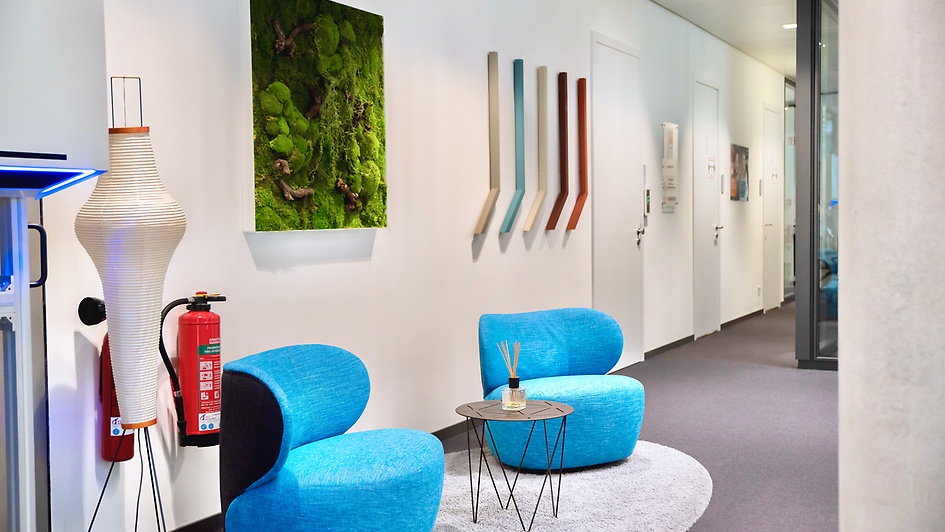 adesso office Karlsruhe
adesso SE Frühlingstraße 8 76131 Karlsruhe Germany
Show on the map
office-karlsruhe@adesso.de
+49 721 531 69 1900
Facts
195 adessi
Founded in 2016
Roof terrace for barbecues
Introducing adesso Karlsruhe
In the heart of the "fan-shaped city" close to Karlsruhe Palace
adesso's Karlsruhe office, which was established in 2018, is just 10 minutes by rail from the city centre and also has quick links to the motorway. The nearby City Park is an attractive place to exercise or take a walk and has a café on the terrace that opens if the weather is good. Alternatively, you can spend your lunch break in the sushi bar or the Italian restaurant. There is also a cafeteria in the building adjacent to the office. Occasionally, we order a food truck at lunchtimes. The Karlsruhe office has a roof terrace that adessi love to use for barbecuing in the summer or for watching big football matches.
Culinary highlights:
The sushi bar and the Italian restaurant around the corner are excellent lunchtime options, and next door there is even a cafeteria.
The supermarket and bakery opposite the office also have a wide range of fresh produce on offer. Takeaway services will deliver to the office too, of course.
Special features in the office – we offer …
… a bakery delivery service that brings tasty bread rolls in the morning.
… table football for fun during breaks and a massage service every two weeks for some deep relaxation.
… electric charging stations for cars and e-bikes for rent.
After work:
Karlsruhe city centre, with its many bars and restaurants, is only 10 minutes away by local rail. A visit to Karlsruhe is never complete without a trip to Karlsruhe Palace and its extensive palace gardens.