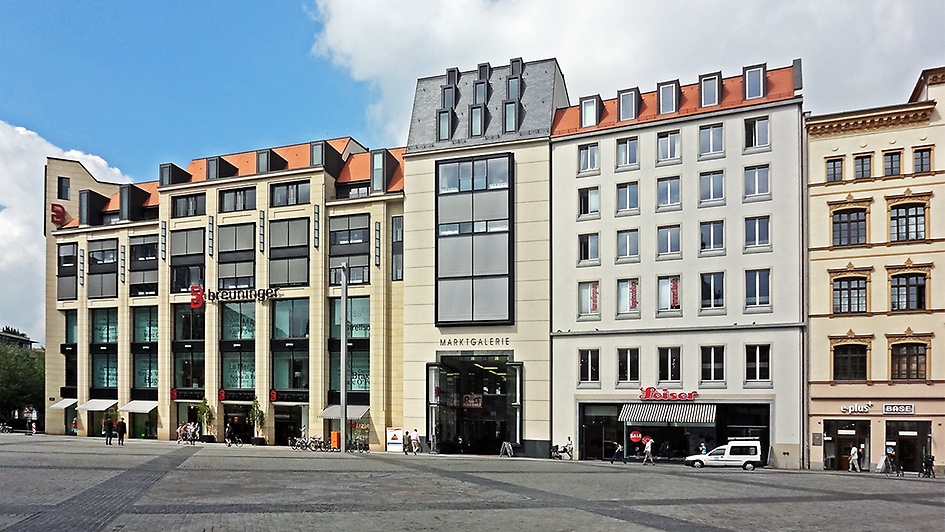 adesso office Leipzig
adesso SE Markt 11 04109 Leipzig Germany
Show on the map
office-leipzig@adesso.de
+49 341 9899 1750
Facts
100 adessi
Founded in 2020
Wonderful view
Introducing adesso Leipzig
In the historical heart of the city
The Leipzig office is located in the historic heart of the city with a wonderful view of the market square and the Old Town Hall. adessi are spoiled for choice when it comes to lunchtimes: not only are there countless attractions and shops nearby; the city centre also has a large number of restaurants and eateries.
Some adessi like to shed the lunchtime calories by training in the gym next door. On Fridays it's time to ring in the weekend with a cold Radeberger beer or two.
Culinary highlights:
Leipzig city centre has everything you could possibly want. Barfußgässchen, which is right next to the adesso office, is particularly worth a visit, with a range of bars and restaurants to satisfy your hunger. Try Leipziger Allerlei, a local mixed vegetable dish, or enjoy some international cuisine or trendy dishes in popular hangouts like Barfusz and SPIZZ. One of the best currywurst stalls in Germany is said to be near the adesso office.
Special features in the office – we offer …
… a central location just five minutes' walk from Leipzig Main Station. Those arriving by car can park in the underground car park below the office.
… an authentic RB Leipzig Bundesliga match ball in our air-conditioned meeting room, as well as a Playstation for some lunchtime gaming.
… regular events and get-togethers, including cold drinks on Friday afternoon to ring in the weekend with fellow adessi.
After work:
Leipzig is a city that appeals to all tastes, whether you are looking for music, culture or nature. In the Leipzig Neuseenland, visitors can discover and enjoy the countless lakes formed by flooding decommissioned open-cast mines. In the trendy district of Plagwitz, also known as Little Venice, you can even take a ride on a gondola. A number of attractions, such as the Leipziger Oper and Gewandhaus opera and concert halls at Augustusplatz and the Monument to the Battle of the Nations, are best seen in one of the many city sightseeing tours on offer. Anyone who likes cocktails and bars should check out one of the many pubs in Barfußgässchen or in the Südvorstadt district. There are also plenty of clubs that are worth a visit, including Distillery, the oldest techno club in central Germany. If you're an animal lover, Leipzig Zoo is a great place to visit with its tropical Gondwanaland attraction.