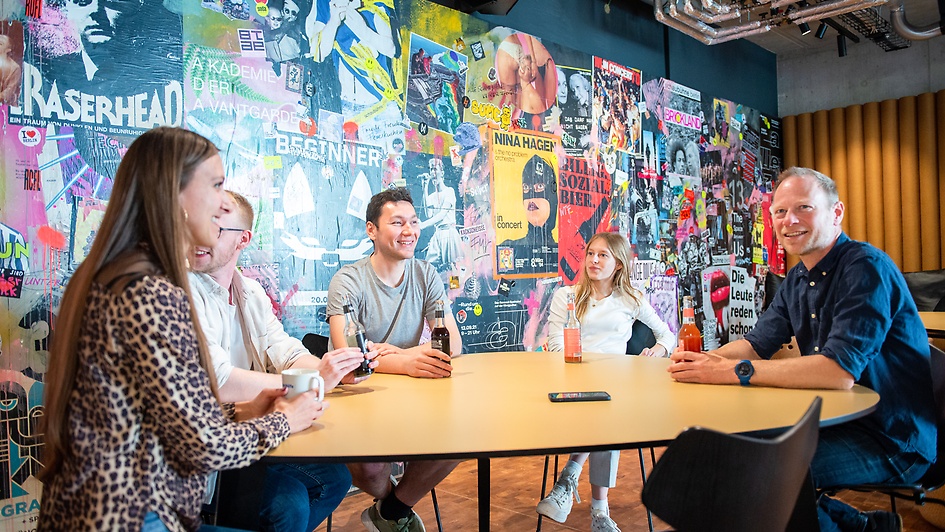 adesso office Berlin
adesso SE Prinzenstraße 34 10969 Berlin Germany
Show on the map
office-berlin@adesso.de
+49 30 7262033-0
Facts
535 adessi
Founded in 2000
A wide range of culinary treats on the doorstep
Introducing adesso Berlin
Our location in the capital
Our Berlin office has been based in the popular district of Kreuzberg since early 2022. It offers plenty of space for adessi and a few cool features.
The city famous for its nightlife certainly lives up to its reputation: every Friday afternoon, the adessi ring in the weekend by enjoying a Berliner Kindl beer and other chilled drinks, and by playing table tennis or table football. Social events are somewhat of a tradition for the adessi in Berlin, especially pub and bar crawls along the Ringbahn S-Bahn line or in a particular city district.
Culinary highlights:
Many restaurants can be reached quickly on foot. The Moska, the Kuchen Kaiser and the MON Restaurant are particularly popular. In the same building as the office on the street side, Beets & Roots offer delicious salads. On Tuesdays, Dean & David delivers freshly prepared food to us at a fixed time. There is also a soup kettle in our bistro, where around 100 portions are served every day.
Special features in the office – we offer …
… breakfast for all employees every six to eight weeks, followed by exciting presentations.
… football and running clubs with regular training sessions.
… a roof terrace with a direct view of the Berlin TV Tower, where adessi like to meet for an after-work beer on Friday afternoon.
After work:
The Maybachufer is a great place to take a walk, especially in the summer, and has a fruit and vegetable market on Tuesdays and Thursdays. Thanks to its international diversity, the Kreuzberg district offers plenty of culinary variety, and some breathtaking street art too. The Berlin Wall is just a short ride away on the underground. In the evening, you don't have to look far for a place to have a beer after work: the bars in Oranienstrasse around the corner are usually packed.