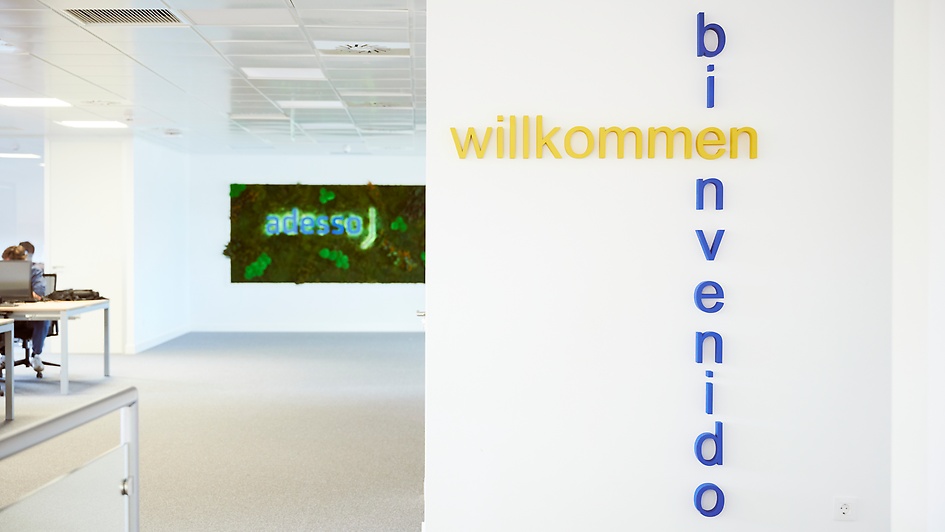 adesso Office Madrid
adesso Spain S.L. C. Juan Esplandiú, 11 28007 Madrid Spain
Show on the map
info@adesso.es
+34 935 638 250
Facts
55 adessi
Founded in 2019
Introducing adesso Madrid
Our office can be found in the Retiro part of Spain's capital city, near the famous Torrespaña tower. This elegant district is not just a great central location, it is also known around the world for the public Retiro park. Our office is surrounded by green spaces, including Parque de Roma and Quinta de la Fuente del Berro. It is conveniently situated in a residential area, very close to two underground stations and with access to the M30 motorway. The surrounding area has a lot to offer in terms of culture and leisure activities. Alongside the parks, this area boasts the Prado Museum – one of the most famous museums in the world; the Plaza de Cibeles square – where Real Madrid celebrates its triumphs; and Atocha – Madrid's main railway station. At the office, we enjoy gathering together in a large room that offers a 360-degree view of the city and the Sierra de Madrid. We also have a lovely kitchen area, with space to eat or enjoy a coffee together.
Culinary highlights:
You can find lots of dining options very close to our office, with something to suit every taste, along with two major supermarkets. Employees can enjoy a longer lunch break away from the office in one of over 20 restaurants of all kinds, which are only 1 km away.
Special features in the office – we offer …
The office in Madrid provides employees with many quiet working environments – from small rooms for short meetings between two people to the Menesters Room, which can accommodate up to 24 people and offers a view of the entire city. Along with free coffee specialities ranging from oatmeal to chai lattes, we offer pizza on Thursdays, Hawaiian parties and corporate running events.
After work:
The streets of Madrid's Retiro district have become some of the most popular places to enjoy an aperitif, dine at one of the many top restaurants, go for a drink or simply enjoy some tapas snacks inside one of the many bars or on the terraces. The top 5 nearby attractions according to TripAdvisor are the Prado Museum, the Retiro park, the Glass Palace, the Cibeles Palace and the Paseo del Prado boulevard. Sports fans can watch a Real Madrid or Atlético Madrid game, enjoy the Masters 1000 tennis tournament or take part in the famous San Silvestre Vallecana run. And if that wasn't enough, there are many other museums, concerts and famous theatre shows to enjoy, such as The Lion King.