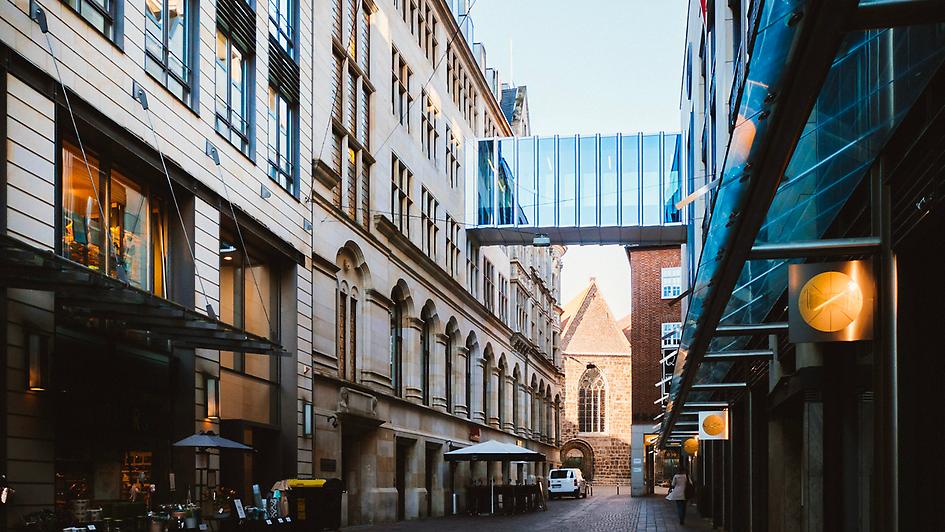 adesso office Bremen
adesso SE Katharinenstraße 5 28195 Bremen Germany
Show on the map
office-bremen@adesso.de
Facts
69 adessi
Founded in 2020
Central location next to the Weser
Introducing adesso Bremen
In the heart of the beautiful Hanseatic City
Our office lies in the heart of the beautiful Hanseatic City of Bremen, near Bremen Cathedral, the city hall and the famous Bremer Stadtmusikanten statue. Bremen's adessi appreciate the culinary variety at lunchtime just as much as the games room with Playstation, Wii and table football. The central location is also the best place to start when jogging or inline-skating along the Weser or through the city ramparts. Our sports-loving adessi in Bremen proudly take part in the annual corporate running event with many other participants.
Culinary highlights:
Directly in front of the Bremen office is the Q1 restaurant with its international crossover cuisine, La Bottega offering outstanding Italian food and Bar Celona with burgers, finger food and cocktails. Seafood fans will also feel right at home in the traditional Knurrhahn restaurant. At lunchtime there's a wide range of food on offer at the nearby Bremen weekly market. The market hall caters to every wish: from Korean, Chinese, Mexican, Indian, Spanish, American to African cuisine. Numerous bakeries, cafés and confectionery shops in the Katharinen- and Domshof-Passage at the entrance to the office also have everything to satisfy small hunger pangs and cravings. The fruit baskets available in the office also provide the necessary vitamin boost.
Special features in the office – we offer …
… a games room with consoles and table football, as well as office showers available to all adessi who play sport or exercise in their lunch break or commute to work by bike and like to start the working day refreshed.
… a central location with plenty of ideas for activities, such as a relaxed walk through Bremen city centre at lunchtime.
… regular games evenings and after-work events that are perfect for relaxed networking and catch-ups with colleagues.
After work:
The central location offers lots of jogging and inline-skating routes. With so many sporting activities available nearby, it's no wonder the adessi in Bremen are keen participants in the city's annual corporate running event. Anyone who enjoys different kinds of food will love the wide choice of restaurants, bars and cafés in the city centre, which are ideal for unwinding at the end of the day.